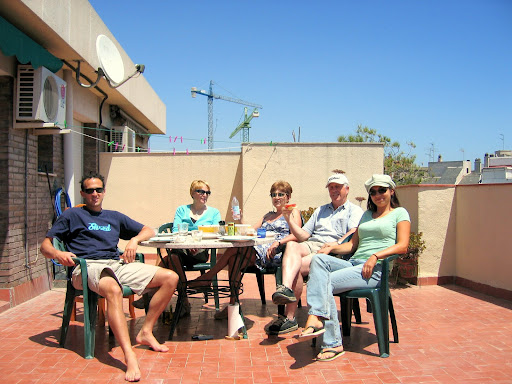 This weekend saw the visit of my Mum and Dad to stay with us in Barcelona, along with our friends John and Julia who live across the road from my folks. A good time was had by all poking around the city, and we fitted in a day trip to Montserrat as well. Shame we didn't win the pub quiz. Ah well.
The last thing they managed to squeeze in before leaving was a visit to our new flat in Poble Nou. We signed the contract yesterday and so are very pleased.
Location
wise it is (almost) perfect - I say almost because it could be right next to the beach, instead of four blocks away, but it is right in the middle of an area that we really like. We still haven't quite figured out how we are going to configure the rooms - if I had bought the place I would knock through a couple of the partition walls and make it a really big two bedroom flat, rather than have four rather small bedrooms (actually, three bedrooms and a glorified cupboard!). And the new place doesn't have a terrace like our current flat does, but then it is in a much much nicer area and is €400 euros a month cheaper, not to be sniffed at.
Anyway my parents and John and Julia have left now; and in fact I'm on my own for a week because Djanira jetted off for a week to Madagascar! Nice for some, eh? This summer she is going to be base-camp manager for an expedition organised by her old company,
BSES
, and so is flying out there now to do a recce. Sounds suspiciously like a 'holiday' to me!
Fortunately I have lots of stuff
ar y gweill
, plenty of work to be doing, parties and pub quizzes to go to, and this weekend I'm off to climb one of Montserrat's big walls with Ferran. Speaking of which, I shall leave you with a pic of my Mum and Dad there two days ago: