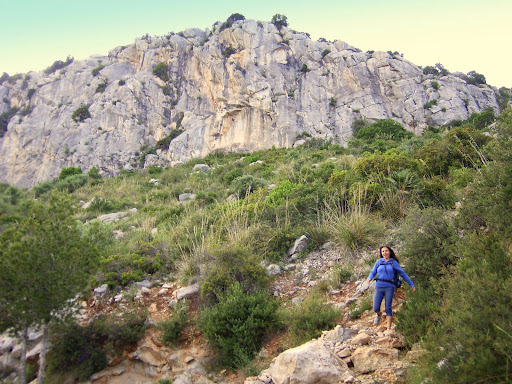 Last night, my old mate Dan had a bbq on his terrace, which was very nice and we made lots of new friends. However, upon arriving home at 3am we thought that our plan of doing something outdoorsy the next day might be scuppered. Not so! One the reasons that we chose to move to Barcelona was because it is close to lots of fun things that you can go and do of an afternoon or even an evening, and so around mid-afternoon we decided to head out to do a bit of climbing.
We had parked the car down in Poble Nou so it was a bit of a walk before we could get motoring. Unfortunately, as I sat down in the drivers seat and turned the ignition, disaster! An interior light had been left on and drained the baterry. Bugger. Fortunately a quick trip to the petrol station round the corner for some jump leads, and after waving down somebody who was pleasant enough to give us a jump start, we were back on the way.
The crag we went to was Penya Ginesta, which is just to the south-west of town, near Castelldefels. It is a very pleasant place to be with a beautiful view across the Med: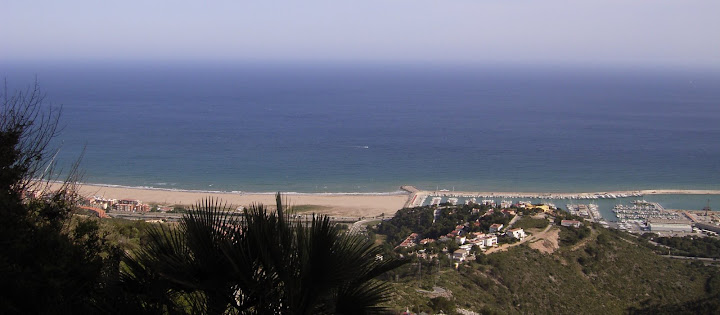 We arrived at about 5pm so only did a few routes. Djanira did well to get up a 6a, and I
dogged a 7a which will should go clean when I am fitter - the last time I climbed routes was in Pembroke at Easter, so I'm not in best shape. Here's the classic 'from below' shot of DJ on the first route we did: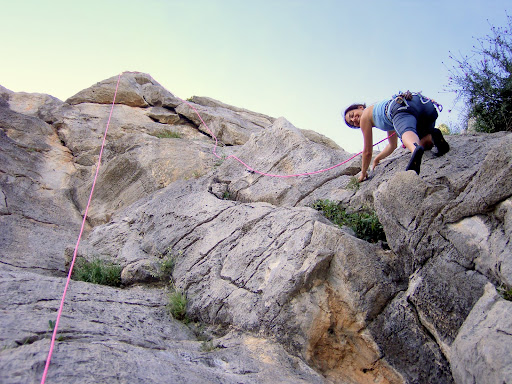 Later on, we finished off the day with a beer and some tapas on Castelldefels beach, which you can see in the photo above. Very nice too.
Oh yeah, and to all those doubters, Plebby made it to Spain no worries, and is serving us well as usual (despite us mistreating him by leaving his lights on).
Hasta la proxima....