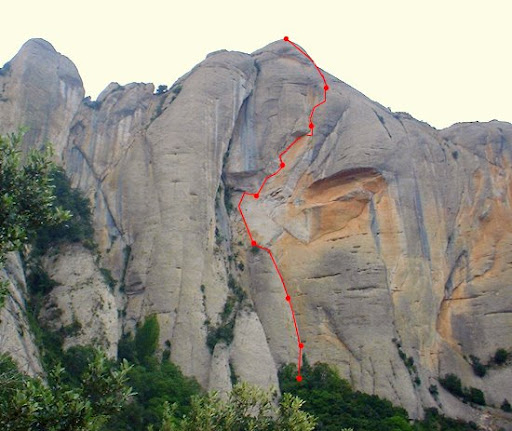 On Saturday I was invited by my mate Ferran - creator of the finally updated
http://www.caranorte.com
(
molt bé
, Ferran!) - for my second ever Montserrat climbing experience. The first was over a year ago, when a group of us from London visited the south face of the mountain to do some sport climbing. The south face is a very pleasant place - accessible, sunny, with generally quite short routes that are well equipped with new bolts. The north face is a different beast; its dark, sheer walls are only breached by a handful of routes, almost all of which resort to aid climbing at some point
(non-climbers: see note at bottom)
. We were off to El Paret dels Diables (The Devil's Wall) with the goal of doing one of the very few all-free routes i.e. no aid climbing. 330m, 10 pitches, max grade 6c+. Gulp!
Fortunately, it wasn't quite as scary as it sounds. The route, called Sanchez-Martinez after the first ascensionists, has been recently rebolted (replacing the original hand-placed nail-bolts) and so we could afford to enjoy the exposure and climbing free from the worries of having to place protection, although we had a rack of nuts with us which were used on occasion. The route starts up a 6a+ wall before diving into a chimney, which was ascended in true mountaineer, back-and-foot style. After three pitches we were spat out on a handsome ledge which was the start of the route proper. A pleasant V+ pitch led us up to the start of the difficulties, a 6c+ hanging crack which was led in fine style by Ferran.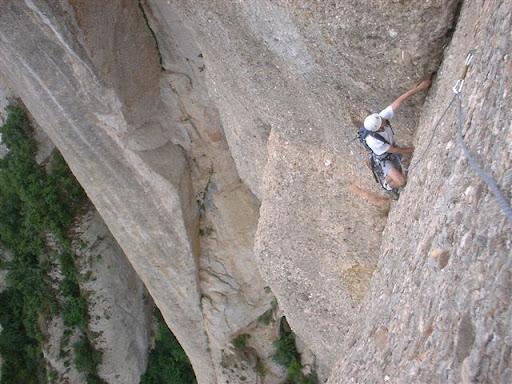 I thought the pitch was completely nails, and was absolutely knackered as I came round the corner to the belay. After a minute or so's recuperation I glanced up in trepidation at the next pitch (my lead!) knowing that it was 6c and therefore almost as difficult. Then my mouth dropped as I saw the most perfect hanging slab you ever seen, capped by a huge arcing roof. The crack where we were stood led straight up for a few metres for gradually curving round to the right until it reached horizontal. It reminded me instantly of photos I've seen of the Great Roof on the nose of El Capitan in Yosemite (except half a kilometre lower off the ground, and several grades easier to climb!). The climbing was perfect, delicate slab padding up along the crack, not tiring at all, just absolutely, mind-blowingly, brilliant. Undoubtedly the finest pitch of rock-climbing I have ever done in my life.
After that it was all over, with only a handful more pitches around the V/6a mark to reach the top, where hands were shaken in the traditional style and off we trooped to find the descent path. A brilliant day's climbing was topped off by driving round to the south face to meet up with Raquel who, like Ferran, I had met at the BMC international meet last April. It was great to see them both again and good to climb with Ferran.
Moltes gràcies
!
Finally it was off on the 45 minute drive back to Barcelona for a quick shower and then out to party with Dan + friends. Today I'm shattered!
Note: Aid climbing is the opposite of free climbing in that you are required to pull/step on bits of metal that you place into/onto the rock - it was once common everywhere but now is generally practiced only in areas where free climbing is too hard/dangerous.