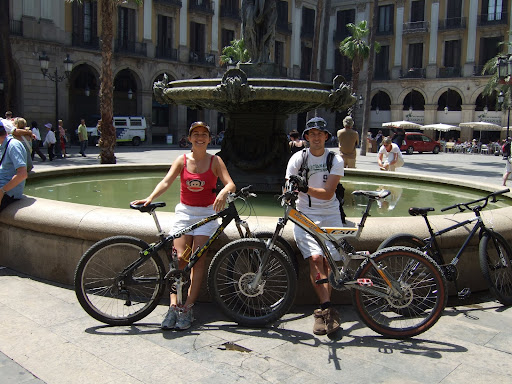 Apologies for long delay in updating, I know you avid readers have been waiting on tenterhooks for next intallment! (tumbleweed) Well, here it is! (more tumbleweed) Anyway, I am back in Barcelona after being in London for a week, for work. My Dad and I drove all the way down from Britain with a car load of stuff, so now DJ and I have almost a complete flat full of our stuff, and (as you see above) our bikes, which is cool as it means we get to explore the city a bit more. The photo above is taken in Plaça Real, in the old town, just off Las Ramblas. I have bought my heavy suspension bike out, lured by stories that it is possible to take your bike up on the Funicular to the top of Tibidabo, the biggest of all the hills that border the city. Hopefully next week I'll go with my mate Raoul to explore and find some trails. Cool.
Djanira an I have become regulars at the local internet cafe, as we still don't have neither a phone line nor internet in our flat. Everything here goes very slooowly, but hopefully by the end of the month we will have a fat 4Mb pipe, and our flat will be complete. It's looking pretty cool now, if you go and see my Dad's photos that he took during his visit, you'll be able to see some pics of the flat. The best thing about it is that we're so close to the beach. Yesterday we spent the day down there, and were joined in the afternoon by Dan and his girlfriend Kate. We stayed until sunset, sunbathing, eating spanish omelette, drinking cold tinnies, dipping in the sea and playing frisbee, before heading back to the flat for grub around 9. Time for a quick shower then it was out on the town! Last night we discovered that one of the main 'late night' spots is about a 15 minute walk from the flat, and we ended up playing table football in some bar around there at 4am. Bit tired today, I'll be honest.
Djanira is buggering off to Madagascar for six weeks on Tuesday, as base-camp manager for one of BSES' expeditions. I shan't pretend I'm very happy about it, but it will be a great experience for her and brilliant for her CV. Once she's back she'll be able to start looking for a job! So I'll be living on my own for a while, time to complete Final Fantasy XII on the PS2, get back on my skimboard (the little summer med ripples are just about rideable) and start remembering how to ride a bike - I have found some cool 'street furniture' around the olympic port, and there's a natty little skate park right on the beach, with a spined double mini-ramp (i.e. two quarter pipes with a spine in the middle), which seems to have a really relaxed vibe between skaters, BMXers and rollerbladers (agressive grrrrrrrr). I haven't ridden a park for years though, so I need to get some lines sorted before I turn up during 'rush-hour' on a 26" bike, hopefully a couple of quiet morning sessions will increase my confidence.
Also, speaking of work, it looks like I'll be starting a new job soon, working 15 hours a week to complement the 18 hours or so that I do at the moment for UCL. More news of that in the next installment, when everything's a little bit more confirmed. Keep your eyes peeled!