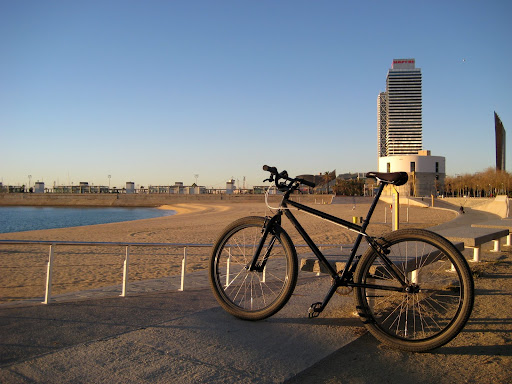 For the last 24 hours much of the eastern coast of Spain has been battered by 70 mph gusts of wind, which has seen a fair bit of damage but no serious accidents. Last night I woke up at 3pm, cursing the neighbour that had forgotten to secure their window shutters, which were clattering away in a very annoying fashion. 10 noisy minutes later it dawned on me that that annoying neighbour was in fact, me; so I spent a chilly five minutes on our balconies tying things down. On my commute to work this morning I was expecting to see big waves, but as you can see from the photo, it was pretty flat, and the wind and had completely died, very disappointing.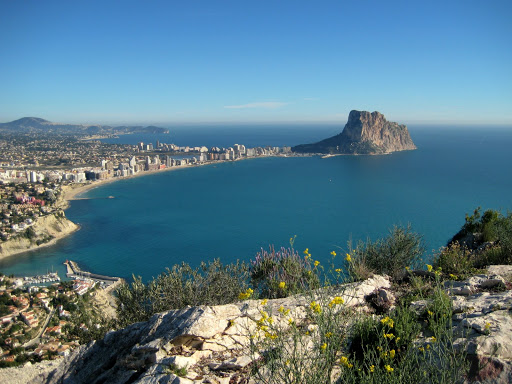 In other news, Djanira and I drove down to the Costa Blanca this weekend for some climbing. It was a 'puente' weekend - bank holidays in Spain are taken on the exact date, not the nearest monday as in Britain, and the result is that if the holiday falls on a tuesday or thursday, most people 'make a bridge' ('hace puente') and take the intervening monday or friday off for a four day weekend. This is what we did this weekend, and it's a good job too becuase it's bloody miles down to the Costa Blanca. The climbing there is excellent and it of course the weather was superb - sunny and 20+ degrees every day, much warmer than up here in Catalunya (although, it IS still sunny here ;) Here are some piccies: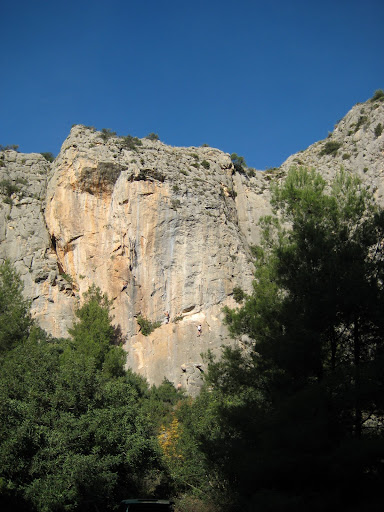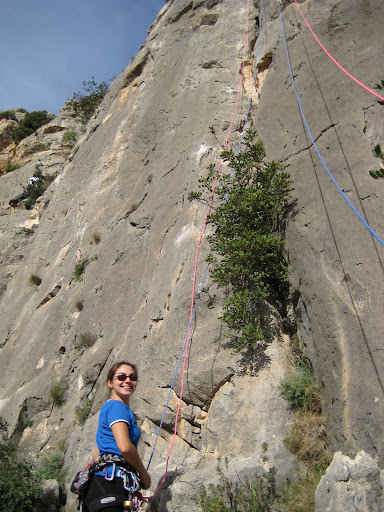 Both of us were quite pleased to get climbing again and, although not at peak fitness, there were still signs of life in the forearms. Dj was doing particularly well as she led several routes which has given her some more confidence in ropework and the leading system. She's yet to take a lead fall though! On Saturday we hope to able to get out again to one of the local crags, and we might even try and get a bit of floodlit climbing done at La fuixarda (
Barcelona's crag/climbing wall
). Might be a little chilly though!